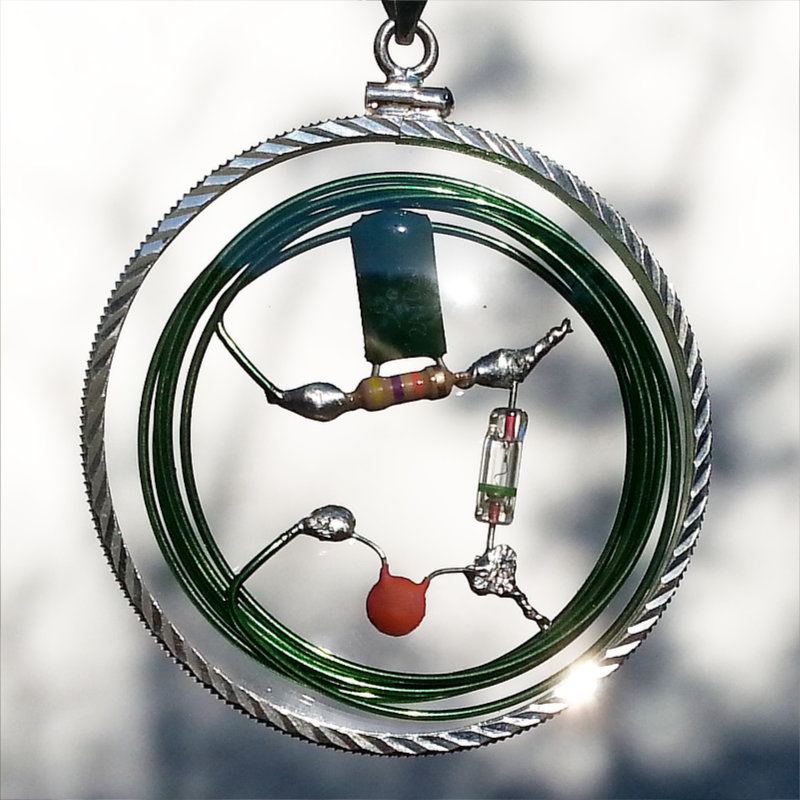 Picture above is of the pendant contained in a coin-edge bezell -- with German watch crystals.
Amulet Attributes
Act of kindness:3, Beta Blocker:1, Compassion:1, Confidence:3, Dowsing:3, Energetic:3, Enlightenment:3, Fortune:3, Gratitude:2, Guardian:1, Guide:1, Happiness:3, Healer:3, Higher consciousness:3, Higher intelligence:2, Higher power:1, Higher self:1, Hope:1, Illusion:1, Infinite space:1, Inner beauty:1, Inner peace:3, Inner radiance:1, Inspirational:2, Letting go:2, Luck:3, cci:3cn:3, Overcoming fear:3, Patience:1, Peace:1, Perseverance:1, Personal enhancement:3, Personal power:1, Premonition:1, Prosperity:3, Protection:3, Rejuvenate:3, Relaxation:3, Replenish:3, Right action:3, Self-esteem:3, Self-help:3, Strength:3, Success:3, Theta enhancement:3, Transcend:3, Transformation:1, Truth:1, Understanding:1, Universal:1, Vitality:3, Wellness:3,
Prosperity
Price: $
125

.00

Purchase pendant contained in a silver coin-edge bezel, with German watch crystals.

I haven't worn my Prosperity Amulet for a while, but I put it on two days ago...and the next day I received money sent spontaneously from a friend! For those considering a Prosperity Amulet, you don't need to believe...you just have to try it.

-- R.C. - Canada

Testimonials abound for the profound effect this amulet has. It combines opening to happiness, optimism, prosperity, theta enhancement, wellness and very balanced effects of opening to higher energies and "prosperously" manifesting in this world. It can be used in dowsing also.

The concept of "Prosperity" in antiquity and today, in many cultures, did not automatically mean personal wealth. It was more indicative of a condition of well-being and richness of life, and was meant in the sense of fullness of spirit and completeness as a being. When referring to a person, prosperity means "successful", "flourishing" or "thriving". Only in relation to a country does it mean "booming economy". The Prosperity Amulet combined with the Prosperity Path Affirmation Induction is a good way to bring yourself into the state of mind where prosperity is an open possibility for you.

Several years ago, I bought this pendant. I lived in Reno and one time I was playing in the casino and within one hour I hit two seven spots. Around 300 dollars or more. That was unusual. And of all the jewelry I brought with me, this was one of the few pieces I packed on my journey to a job in Colorado. Well, I am now in Wyoming and made at least double my income compared to 2012. Recently one day I had taken it off, and within the next two days I was alone outdoors doing my job and fell on the ice in the alley, flat on my back. Now I no longer ever remove this prosperity CQR for the sake of protection which is in fact part of prosperity.

Thanks for letting me share. Oh, my friend is asking me questions of this pendant so I gave her the website.

Thank you soo much!!!!

-- A.F. Wyoming

"My son purchased a prosperity amulet for me.I have been wearing it to work and have noticed a "shift" with not only the residents but also the staff and of course myself.

Have noticed more changes:to me,I feel stronger both Physically and mental/emotionally;with staff I work with seem to be calmer and not as negative,work flows smoother;one client has regained his yes/no verbal responses(don't know if its the amulet)but have noticed most clients seem to be happier.

This is the reason I have ordered a quantum witch.Thank you for these amulets.

Wishing you love,light and laughter. M.R."

Based on reports and real life stories from people using the Prosperity CQR Amulet, you can expect:
improved confidence,
sense of fulfillment,
tap into your inner abundance,
feel a flow with right action,
access my ability for right decision
Read what our satisfied customers have to say:
"I love my Prosperity Amulet. It is right on my heart, morning, noon and night. If I miss putting it back on, I can feel the difference. It really does bring Prosperity of lots of love, lots of understanding, monetary needs, etc. If you do not have one, you need to get one. Your life will change for the better. That is my experience with the Prosperity Amulet... -- Star-Ananda"
There's another story I want to write you but I forgotten yesterday. A friend of mine for whom the hbm and prosperity amulets were wished to be more prosperous and played a winning game. In the first week he won nothing and he began to thought about what he wants to do if he wins a lot of money. He thought of traveling to the sea. And now in the second week he won by the same winning game (runs over two weeks) a travel to turkey for three persons! Wow, was he happy yesterday. -- Martin, Germany
"I've been here in paradise for 3 weeks now. It's very nice. After a while you have to stop thinking it's a coincidence that everything goes your way and start believing in the power of the amulet and your mind. I'm a believer. -- D.S., Bangkok
"My prosperity amulet arrived this afternoon. I put it on and ... got a call telling me that my father's estate has a check for me in the amount of $150,000!" -- S.C., Riverside, CA
"When I first saw the Prosperity Amulet I wanted to get it. Times are tough right now so I was reluctant to spend the money. Days went by and I could not get it out of my head. I finally ordered it. As soon as I did, I got the information that I had saved over $300.00 on a recent bill I had." -- D.D., USA
"I secured 2 contracts that had been in limbo and got 3 new assignments -- all in one day -- after I started to wear my Prosperity Amulet." -- R.C., Nelson, BC
"My prosperity amulet arrived this afternoon. I put it on and was writing a little thank you email to you guys when I got a call telling me that my father's estate has a check for me in the amount of $150,000! I had been wearing the amulet for maybe eight minutes!!! We, like so many people these days, have been really struggling to make ends meet. We were even wondering if we would have to sell our home. I borrowed money to buy the Beacon." -- M.L., Orange County, CA
"Since I got the Prosperity ammy, it's a recovering addict's dream to have access to this without the side-effects of drugs and the addictive obsession that goes with them. There has been so much bliss, good luck, and clearing of old karma. Of all the wonderful things I have come across since becoming involved with transformation, the Happy camper wearing CQR - Crystal Quantum Radio Amulet :) are my favourite." -- G.H., Surrey, UK
Right when i got this amulet on i felt it was stronger than the classic it had more attributes - i felt much more energizing and rejuvenation effect and it stimulates the heart area - when i have guests i let them have it on - they say the same, they fell an expansion of the chest area. it makes one more soft and appreciative of life and other people, i still use sometimes it even though i have a Black Dhiode now, because i like the soft sense and tranquility it gives. -- Peter, Denmark