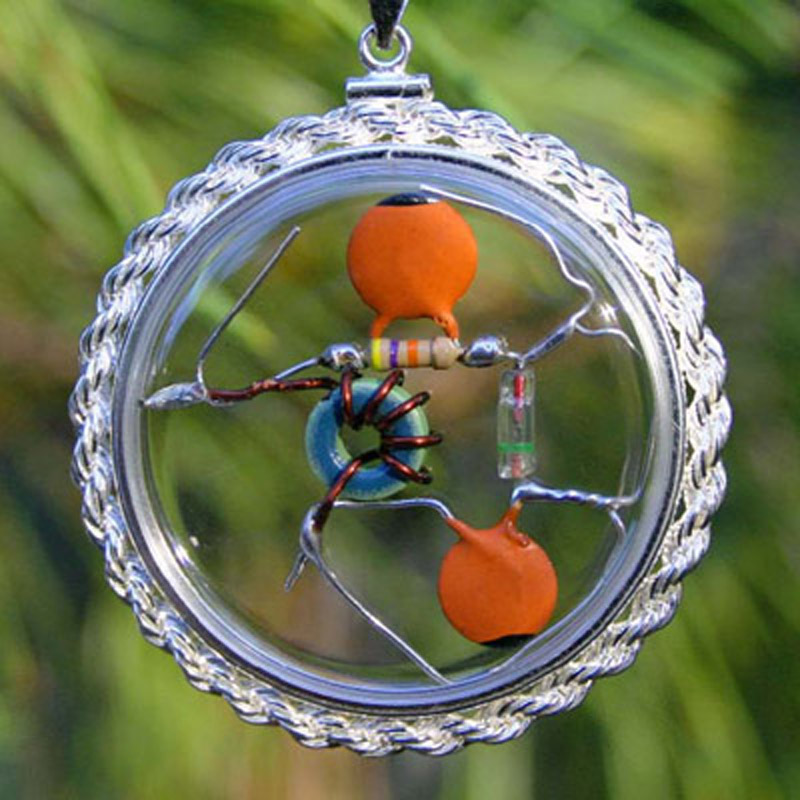 Amulet Attributes
Alchemy:5, Alternate life recall:5, Angel:5, Angelic:5, Astral projection:5, Attention:5, Aura enhancement:5, Awakening:5, Beta Blocker:5, Chakras:5, Charisma:5, Creativity:5, Dowsing:5, Dreaming:5, Dream walking:5, Dreamcatcher:5, Energetic:5, Energize:5, Healer:5, Higher consciousness:5, Higher intelligence:5, Higher power:5, Higher self:5, Hope:5, Inner peace:5, Overcoming fear:5, Parallel universe persona:5, Parallel worlds:5, Paranormal activity:5, Past life recall:5, Protection:5, Rejuvenate:5, Replenish:5, Right action:5, Self-discipline:5, Soul retrieval:5, UFO:5,
Quantum Tesla
Price: $375.00
The Quantum Tesla is almost exclusively intended for connecting with higher dimensions, angelic realms and angelic entities, as well as higher intelligence, higher power, higher consciousness, higher self and perception, including UFOs. It facilitates contact with alternate lives, parallel universe personae, past lives, dreaming and astral projection, soul retrieval and paranormal activities. It also energizes, replenishes, rejuvenates and helps deal with fear. Protection is built in. A good amulet for healers as well as shamanic voyaging. It also induces self-discipline and awareness of right action. As with all Beta-blocking amulets, it enhances your creativity and inner peace.
Based on reports and real life stories from people using the Quantum Tesla CQR Amulet, you can expect:
Opens the third eye
Increased flow
Better recognition and understanding
Betablocking
Read what our satisfied customers have to say:
"I love my Quantum Tesla CQR Amulet. I use it while inventing and experimenting. I feel the ghost of Tesla himself is nearby when wearing it!" -- Rick C.
The Tesla name is highly applicable to this amulet, it opens the Ajna or third eye a bit and the energy enhances the flow of work data. It seems to speed up recognition and understanding, could be used as a study tool for students. One might find both of them very useful in a ten hour study cram before exams. -- M.M., Winnipeg, Manitoba
"Thank you. These quantum amulets are awesome." -- Meredith M., Harrisburg, PA
See what others have to say:
The wizard is a powerfull amulet it help a great deal with focus an attention and it seems to manifest what is most necessary in communication - its very good in dealing with life challenges and I keep me on beat and withwith the task I set out to do and at the same time it keeps me on the path. -- Peter (Denmark)
Ready for a Quantum Tesla Amulet?
Price: $375.00
Sale Price: $325.00
Still have a few questions?
Check out some of our other amulets. We have dozens of CQRs to choose from. Look the selection over and come away with the amulet that is perfect for you.
Read the CQR story to learn more about these amazing amulets.
Give us a call (800 869-0658 / 530 271-2239). We'd be happy to answer your questions.